Some like it hot: Lohmann's new Application Guide for Oven, Cooktop and Exhaust Hood
The high-tech adhesive solutions from Lohmann's Bonding Engineers perform a wide variety of functions in the electronics and consumer goods industries – responding to ever more rapidly increasing demands in the sector.
From transparent and ultra-thin adhesions to efficient sealing as well as insulation and thermal or electrical conductivity: innovative, tailor-made bonds ensure the smooth functionality and pleasing design of devices that are becoming increasingly "smart"; for example, large LCD and TFT screens can now be found in ovens, refrigerators and other household appliances.
These smart devices meet Lohmann's "Smart Bonding Approach." The Neuwied bonding experts think the process right through when finding solutions. From the initial idea, through product development, testing and quality assurance, to final integration into the customer process.
Following the launch of their "Application Guide" series in the field of cooling devices appliances for the home and industrial appliance sectors in winter 2020, the Bonding Engineers now deliver the appropriately tempered sequel in spring 2021 with the "Application Guide for Oven, Cooktop & Exhaust Hood".
Learn more about the wide range of applications for Lohmann's adhesive tape and die-cut solutions for kitchen appliances and download the new Application Guide directly here.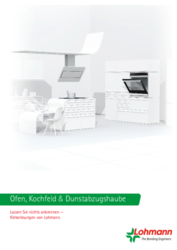 Home Appliance_Application Guide_Cook_en.pdf
Do you have an application challenge for us? Our Home Appliance & Electronics experts look forward to hearing from you: home-appliance@lohmann-tapes.com