Introduction to the world of FLEXperts: Customer training at Lohmann Spain
The comprehensive consultation and support of all customers is Lohmann's first priority.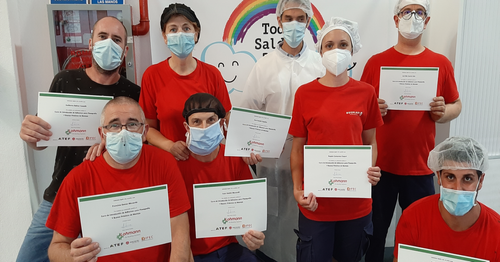 Our "Bonding Engineers" are at your side from the first idea to the integration of the finished adhesive tape into your production process. At Lohmann this is called: Smart Bonding Approach. But also the individual training of individual customers has top priority at Lohmann. Recently, for example, a training course in flexo printing was held at Lohmann Spain.
Our printing experts, also known as FLEXperts, who have many years of experience in the world of printing, pre-press and colour measurement in flexo printing, offered their customer Ducplast tailor-made training on the production and selection of adhesives, adhesion aspects, the choice of the right foam hardness and comprehensive mounting and application practices. Ducplast, based in Valencia, was founded in 1990 and has 50 employees. The company is a subsidiary of Vicky Foods Products S.L.U, the leading brand in the food sector. The training included both theoretical and practical parts, and was of course carried out under the Corona-based hygiene measures. Afterwards, all participants received a certificate which proves that they have been trained in flexographic printing.
More Info: jordi.canadas@lohmann-tapes.com