Lohmann at the FlexoTech Awards 2022: Numerous awards for customers of the adhesive tape manufacturer and nomination for more sustainable plate mounting tape
On October 12, the annual FlexoTech International Print & Innovations Awards took place in London – with great success for Lohmann, its partners and customers from the flexographic printing industry.
Organized by FlexoTech magazine, flexo printers and their suppliers are honored in various categories, including outstanding results in label, ECG or UV flexo printing.
With no less than six awards, the majority of winners this year were once again among Lohmann customers. For them, Lohmann has been supplying double-sided adhesive and compressible PE foam tapes from the DuploFLEX® series for plate mounting for decades. Thanks to their easy handling, they improve mounting and demounting and thus the printing process and make a decisive contribution to an optimum printing result.
Recently, Lohmann developed DuploFLEX® GRIP, a new more sustainable product generation, which was the only adhesive tape product nominated in the "Innovation" category of the FlexoTech Awards. The portfolio is produced with the energy- and resource-saving TwinMelt® technology and features a solvent-free adhesive that reduces the use of solvents in the coating process by 50%. In addition to the recyclable packaging, printers benefit above all from the increased reusability of the plate mounting tape.
Silvia Casellato, Senior Market Manager at Lohmann, was very pleased with the outcome of the evening: "I am very proud of the great success of our customers – and I am delighted about the nomination of DuploFLEX® GRIP! This is nice feedback that we are on the right track towards more sustainable production and thus more sustainable flexo printing!"
Would you like to learn more about FLEXperts and Lohmann's adhesive solutions for the flexographic printing industry? This way: https://www.lohmann-tapes.com/en/flexo-printing__120/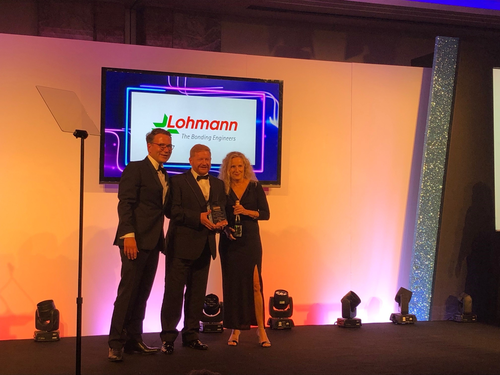 Silvia Casellato (Lohmann) presenting award during FlexoTech Award Ceremony 2022.