Together towards the future: Dortschy as guest at Lohmann's FLEXperts
Lohmann entered the printing industry in the 1950s with its graphic products.

At that time, no one could have guessed that it would become a success story that would last for almost 70 years. Today, not only a comprehensive range of products for flexographic printing is available, but also an extensive service and know-how for customers, based on decades of expertise. Lohmann FLEXperts also maintain a close relationship with their partners. It is always the goal to move forward together and to jointly master increased market requirements.
Thus Lohmann's graphic experts invited their partner Dortschy to the Neuwied Headquarters. The service provider of printing technology and the Bonding Engineers of Lohmann are linked by a long-standing partnership, which will celebrate its 70th anniversary next year. This year's agenda focused mainly on the outlook for new projects and joint activities. Lohmann CEO Dr. Jörg Pohlman took the opportunity to personally welcome the guests from Bielefeld and express his thanks for the excellent cooperation. Afterwards, Dortschy CEOs Reinhart Dortschy and Thorsten Fuest gave an overview of the current market situation and the challenges they are currently facing. The tenor: Persevere together in times of Corona. "Only through close and trusting cooperation can we remain competitive in the future," emphasized Reinhart Dortschy. For his company, he said, the main focus was on the sale of new products. A challenge that the Bonding Engineers are happy to take on. "We are continuously adapting our established product portfolio to the needs of our customers," explained Silvia Casellato, Senior Market Manager at Lohmann, "especially with regard to increasing efficiency such as process optimization and sustainability." The guests were able to see this for themselves: The in-house FlexoLAB, for example, offers the opportunity to specifically test new developments before their market launch.
Many joint activities and campaigns are planned for the 2021 anniversary year, which will be dominated by product innovations.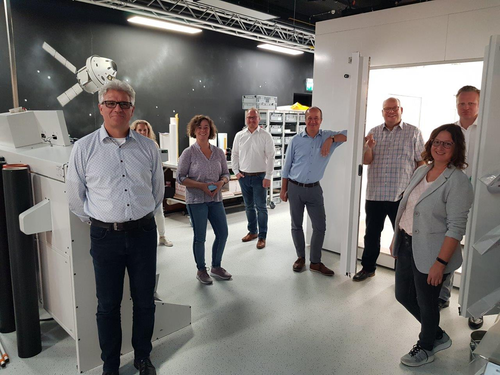 from left to right: Peter Nißing, Lohmann, Silvia Casellato, Lohmann, Anja Nißing, Lohmann, Thorsten Fuest, Dortschy, Reinhart Dortschy, Dortschy, Thomas Holzer, Lohmann, Matthias Müller, Lohmann und Alexandra Kosian, Lohmann at Lohmann FlexoLAB