Bonding Wearables: Lohmann @ Healthcare Sensor Innovations 2019
Lohmann's Medical segment played a special role in IDTechEx's very first "Healthcare Sensor Innovations" conference and tabletop exhibition in Cambridge, UK.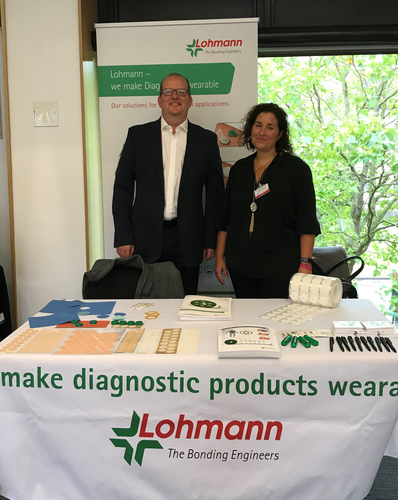 On September 25 and 26, the Bonding Engineers presented their skin patch solutions for wearables and sensors for continuous monitoring of patients as well as point-of-care diagnostics to about 180 attendees.
While adhesive bonding is a major issue in this field, Lohmann's Dr. Lourdes Pastor-Perez, Research & Development, was still unique among the 40 speakers: Her presentation on bonding wearables and the influence adhesives have in combination with different substrates on the skin and wear time was the only one dealing with this joining technology. Her talk led to lively discussions afterwards.
The host, market intelligence and events company IDTechEx, brought together the major players of the pharmaceutical, medical device, electronics, and materials industries – and thus provided a platform of communication and networking.
One of the clear takeaways of the industry's get-together: The medical industry is the most promising market for wearables because it provides various possible applications for this technology: e.g. diagnostics, monitoring and consumer health. The advantages are manifold. On the one hand, wearables are both flexible and thin and through this are more comfortable for patients, allowing for greater mobility. Furthermore, especially patients with chronic diseases can benefit from quantifying symptoms via monitoring devices and thus predicting and preventing future acute episodes. On the other hand, remote patient monitoring (RPM) is significantly reducing costs for the healthcare system, an increasingly important aspect in an ageing population and with chronic diseases on the rise.
Daniel Eng, Market Manager at Lohmann, is looking back on two successful days at the Healthcare Sensor Innovations: "The conference was a great opportunity to meet with existing customers and new leads as well as our partners and other component suppliers into this niche industry. We had a variety of interesting discussions and got back with new ideas and impulses – which we will now take right into our follow-up."
Due to the success of the first event, the second date for the conference is already set: The next Healthcare Sensor Innovations conference is going to take place in San Jose, Ca, USA in March 2020.